About
We are a small multidisciplinary design studio that does a whole range of things in the realms of design, illustration, animation and web site creation. We do everything ourselves, and we do it well.
Some things we do
Web site design & implementation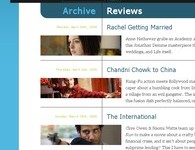 We design a whole range of web sites, ranging from simple web presences to complex dynamic websites and social hubs for you to be able to gather and interact with an audience online in an active way. We use a range of tools to implement these solutions including WordPress, Drupal, Joomla, and any others that suit a particular project.
Budget: USD 3000 and above
Web site audit
For those who have an existing web presence and need to streamline and sculpt what exists into an efficient and effective solution for their needs, we offer a web site audit service. We study and analyse your web site on various levels including speed, search engine optimisation, design effectiveness, and provide you with a detailed report on the state of things and specific actionable solutions that can be implemented by you, or your IT staff in the case of more technical changes, to make your website a more effective tool for your business or community.
Budget: USD 2000 and above
Magazine & publication design
As much as the web and digital media are now ubiquitous, there is nothing that can hold the attention of a potential audience or readership as much as a print publication. User attention-spans online are at all time lows, and the printed word is often the way to add a sense of seriousness and commitment to your message. We create arresting book and magazine layouts that are always based on the ideal of readability and usefulness over noise and flash. Things published to paper deserve a respectful attention to detail.
Budget: USD 3000 and above
Logo & identity design
A great logo cannot make a bad business good, but a great logo can make a good business stand out from the rest. Having a strong visual identity can be the difference between being one of the many and being the most recognised one in your sphere. We make strong, simple logos and branding identities that are functional, recognisable and adaptable across the vast range of mediums that exist today.
Budget: USD 2000 and above
Motion graphics and animation
Video and motion has taken over the world, both online and off-line. An animated presentation or motion graphics explanation is often the quickest and most engaging way of expressing the benefits of your products, the wonders of your services or the message of your communities. We use a variety of techniques and mediums including hand-drawn animation, 3D graphics and animated typography to show what needs to be shown in the most impressive and effective way possible.
Budget: Motion design projects are too varied to make blind estimates. Please contact us with more details if you have a project in mind.
Frequently Answered Questions
Yes

we require a 50% advance payment before we start work on a project.

No

we can't make a website that will magically appear at the top of the search results. No one can.

Yes

we execute most things ourselves and do not outsource all the bits to other people.

No

we will not show you "some ideas" before projects are approved and payments are made. We do not do spec work.

Yes

there is more work for you to do after we're done with ours. Using a web site, logo identity, or magazine to achieve your goals requires significant effort on your part. We design and create the engine that allows you to do that, but nothing is completely automatic.

No

we do not show you multiple choices of random designs to choose from. We design the best functional and visual solution based on our discussions with you and our expertise.